Les apports du travail collaboratif dans l'amélioration de l'expression écrite en L2
This study concerns learning French as a foreign language and the use of distance learning platforms as learning media. The study focuses on telecollaboration and linguistic remediation. The hypothesis explored is that collaboration, using instant messaging and forums, between non-specialist and specialist students of French, for the realization of written macro-tasks, will improve the written expression of the non-specialist students. Data collected during a French-Malagasy exchange project, implemented during the first semester of the 2008-2009 academic year, shed some light on this hypothesis.
L'étude se situe dans le champ de la didactique du Français Langue Etrangère (FLE) et de l'utilisation des plateformes de formation à distance comme médias d'apprentissage. Elle concerne plus précisément la télécollaboration et la remédiation linguistique. L'hypothèse explorée est que la collaboration, via clavardages et forums, d'étudiants non-spécialistes avec des spécialistes de la langue pour la réalisation de macro-tâches écrites favoriserait l'amélioration de l'expression écrite des étudiants non-spécialistes. Des données relevées dans un dispositif franco-malgache, mis en œuvre au premier semestre de l'année universitaire 2008-2009, apportent des éléments en faveur de cette hypothèse.
Fichier principal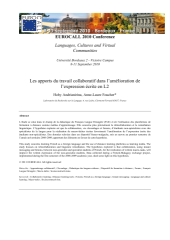 Andrianirina_Foucher_Eurocall2010.pdf (2.08 Mo)
Télécharger le fichier
Origin : Files produced by the author(s)