La recherche française en sciences humaines et sociales sur les technologies en éducation
The issue of the relation between ICT, teaching-learning and education at large has always been overshadowed by the many socioeconomic, political and cultural interests vested in the field. It remains a complex subject that, unlike with the computer sciences, the human and social sciences (HSS) have been, so far, reluctant to tackle. After listing the difficulties encountered by the HSS in setting up a scientific approach on the subject in relation with their specific paradigms, this paper analyzes the conditions necessary to the development of research in the area. It proceeds to show that more comprehensive approaches derived from viewpoints common to the HSS and the global concept of coupling of technology and society - provided it is not restricted to a few selected scientific disciplines nor confined to the educational field - should shed much needed light on some aspects of the tremendous development and impact of ICT in everyday human activities.
L'étude des relations entre formation des individus et technologies a toujours été une entreprise difficile, en raison de la multiplicité de ses enjeux socioéconomiques, politiques et culturels. Contrairement aux disciplines à forte composante technique, les sciences humaines et sociales (SHS) ne l'ont abordé jusqu'ici que de façon marginale ou restreinte, alors qu'elles sont concernées au premier chef par les influences et les conséquences de l'usage généralisé des techniques contemporaines. Après un examen des difficultés des SHS à constituer un champ scientifique sur ce thème en relation avec leurs propres paradigmes, cette contribution analyse les conditions qui permettraient de développer la recherche dans le domaine. Elle propose une approche plus compréhensive qui, tout en s'inspirant de perspectives congruentes en SHS, vise à dépasser les frontières de l'une ou l'autre discipline et ne se confine pas aux questions strictement éducatives. Inscrite dans les &perspectives ouvertes par le concept général de couplage entre technique et société, cette approche pourrait éclairer utilement plusieurs aspects méconnus du développement et de l'influence considérable des technologies numériques dans tous les domaines de l'activité humaine.
Fichier principal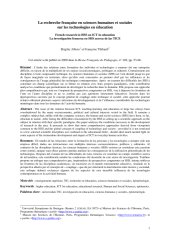 RFP_Albero_Thibault_09_texte_auteur_non_corrigA_par_l_A_diteur.pdf (187.49 Ko)
Télécharger le fichier
Origin : Files produced by the author(s)