University towards e-learning : a focus on Finlande, France and Italy
L'utilisation croissante des technologies de l'information et de la communication ouvre des horizons au monde éducatif susceptibles d'interroger les modèles d'apprentissage. L'enseignement dispensé par Internet (e-learning) réactualise notamment la question de l'EAD et peut permettre à de nouvelles catégoreis d'étudiants éloignés jusqu'à présent des amphitéâtres d'accéder autrement à la formation.

Les universités européennes ont relevé le défi de la modernisation par l'accroissement de leurs propres activités de e-learning et ce choix n'est pas sans obstacle. De leur côté, les institutions gouvernementales poussent au développement des infrastrucutres, à la numérisation des ressources et encouragent la propagation d'une "culture numérique".

Ce livre a été écrit dans le cadre du projet ELUE (E-learning and University Education), initiative lancée par le Commission européenne. Il analyse les résultats d'une enquête lancée en 2005 conjointement sous la responsabilité de la Conférence des Recteurs des Universités Italiennes (CRUI), de la Conférence des Présidents d'Universités françaises (CPU) et de l'Université Virtuelle Finlandaise (FVU).
Fichier principal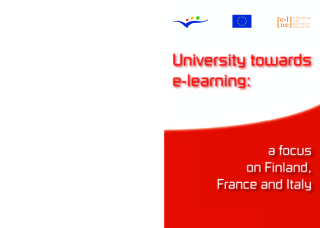 ELUE_Book_English_version.pdf (2.16 Mo)
Télécharger le fichier
Origin : Explicit agreement for this submission