L'accès aux ressources d'une formation guidé par des ontologies
Many resources are now available in order to support e-learning. One objective of the MEMORAe project is to make these resources more accessible to the students. This project proposes an approach based on an organizational memory of the notions and resources of the formation. A principle is to index these resources on the concepts of some ontologies. We describe the means
implemented in this aim. We present the manner in which the students reach the knowledge, by moving in these ontologies. At last, we illustrate our presentation by means of two applications recently set up in some universities.
Beaucoup de ressources sont mises à contribution pour supporter une formation de type e-learning. L'un des objectifs du projet MEMORAe est de rendre ces ressources plus accessibles aux apprenants. Ce projet propose une approche fondée sur une mémoire organisationnelle de l'ensemble des notions et des ressources de la formation. Un principe est d'indexer ces ressources sur les concepts d'ontologie. Nous décrivons les moyens déployés à cette fin. Nous présentons les scénarios par lesquels les apprenants accèdent aux
connaissances en parcourant ces ontologies. Enfin, nous illustrons notre propos à l'aide de deux applications actuellement mises en place en université.
Fichier principal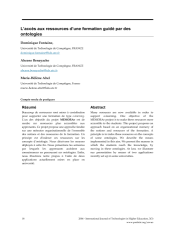 fontaine.pdf (616.18 Ko)
Télécharger le fichier
Origin : Explicit agreement for this submission