Le test de concordance comme outil d'évaluation en ligne du raisonnement des professionnels en situation d'incertitude
A signifi cant part of professional competence stems from the ability to deal with uncertainty. The correlation test is a standardized assessment tool for reasoning in a context of uncertainty that may be put to a variety of uses. This article describes the test format, scoring method and means that have been developed to administer
the tet online. Based on a series of published studies, acquired experience suggests the usefulness of the correlation test in any profession involving reasoning in context of uncertainty.
Une part signifi cative de la compétence dans les professions relève de la capacité à composer avec l'incertitude. Le test de concordance est un outil d'évaluation standardisé de raisonnement en contexte d'incertitude qui peut être utilisé dans une variété de contextes d'utilisation. Cet article vise à décrire le format de l'outil, la méthode de correction et les moyens qui ont été mis en place pour administrer le test en ligne. Selon les résultats d'une série de travaux publiés à ce sujet, l'expérience acquise pousse à recommander l'utilisation du test de concordance dans toute profession qui implique de raisonner en contexte d'incertitude.
Fichier principal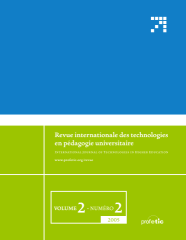 ritpu_0202_charlin_gagnon.pdf (574.78 Ko)
Télécharger le fichier
Origin : Files produced by the author(s)