Reflet, un miroir sur la formation
In this paper we present a tool, we called Reflet, intended for visualization of learner progress state in open and distant learning. This generic tool is interoperable and can easily be integrated in distant learning environment. In order to represent learner progress state we propose the MAT model on which Reflet is based. This model confers to Reflet its generic aspect. Reflet has been deployed in two distant learning curriculums.
Nous présentons dans cet article l'outil Reflet destiné à visualiser l'état d'avancement d'un étudiant ou d'une promotion d'étudiants en Formation Ouverte et A Distance. Cet outil générique et interopérable peut s'intégrer aisément aux plates-formes de FOAD existantes. Afin de représenter l'état d'avancement d'un étudiant nous proposons le modèle MAT sur lequel s'appuie Reflet et qui lui confère son aspect générique. Reflet a été mis en œuvre dans deux FOAD, l'une à l'université du Maine et l'autre au CNAM.
Fichier principal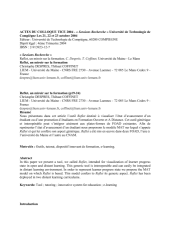 Despres.pdf (133.85 Ko)
Télécharger le fichier
Despres_Coffinet.pdf (326.67 Ko)
Télécharger le fichier