La présence en e-learning : modèle théorique et perspectives pour la recherche
The author of this article proposes a model of presence in e-learning. This model has some similarities with but also some important distinctions from the model of community of inquiry in e-learning (Garrison & Anderson, 2003). It addresses the notion of presence from a different angle, characterizes and specifies it differently. The author outlines the epistemological referents of the model proposed. Then, she describes the interaction processes at work in each of the three dimensions of the model: socio-cognitive presence (1), socio-affective presence (2) and pedagogical presence (3). She also provides a schematic representation of this model. Then, she shows how its three dimensions can be related to each another and presents the main hypotheses that result from these relations. In conclusion, the author outlines that theoretical and empirical research is needed to confirm the relevance of the model proposed, to identify its strengths and to suggest axes for improvement.
L'auteure de cet article propose un modèle de la présence en e-learning. Ce modèle comporte quelques similitudes avec le modèle de community of inquiry en e-learning (Garrison & Anderson, 2003) mais également des différences importantes. En effet, il aborde la notion de présence sous un autre angle, la caractérise et la décline différemment. L'auteure précise tout d'abord les référents épistémologiques du modèle proposé. Ensuite, elle décrit les processus interactionnels à l'œuvre dans chacune des trois dimensions du modèle : la présence socio-cognitive (1), la présence socio-affective (2) et la présence pédagogique (3). Elle propose également une représentation schématique de ce modèle. Puis, elle montre la manière dont ses trois dimensions peuvent s'articuler entre-elles et formule les principales hypothèses qui résultent de ces articulations. Pour terminer, l'auteure précise notamment que ce modèle doit être soumis à l'épreuve de réflexions théoriques et de travaux empiriques afin de confirmer sa pertinence, identifier ses forces et lui apporter si besoin des axes d'amélioration.
Fichier principal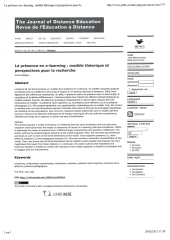 article Jézégou (2012) présence RED.pdf (7.98 Mo)
Télécharger le fichier
Origin : Publisher files allowed on an open archive