Tice et Didactique des Langues Étrangères et Maternelles : la tâche comme point focal de l'apprentissage
Macro-tasks, micro-tasks, activities, communication scenarios, project work... These are all terms that are used frequently today in the research field of ICT and the didactics of first and second language learning. Paradoxically, concrete examples of macro-tasks, tasks, etc. are actually quite hard to find in the literature. The important role played by the task in the acquisition of knowledge or of a language competence, however, is well known. Moreover, every teacher has experienced the difficulty of devising clear instructions, adapting the difficulty of a task to the learners' level, selecting the lesson material or adapting the type of task to the desired linguistic objective. Finally, the framework provided today by an action-based approach, using the task as a means for the learner/user to mobilise his or her competences in order to act in the foreign language, is leading specialists in didactics to pursue even further their study of its effectiveness in teaching. The different aspects of the tasks (form, implementation, meaning, goals, materials, tools) take on a crucial importance in non face-to-face language learning/teaching situations in multimedia learning environments or training courses involving ICT, open and distance learning, online exolingual group exchange projects, etc. Indeed they need to be planned and set up before the learning situation starts and the designers have to anticipate learners' reactions and then adapt to what actually happens in reality, modifying, if necessary, the planned activities or scenarios. The second edition of Tidilem proposes different approaches to examine the issues concerning computer-mediated tasks: - Theoretical reflection - The design of computer-mediated tasks - Task achievement by learners and analysis of its implementation.
Macro-tâches, micro-tâches, activités, scénarios de communication, projets... Autant de termes utilisés couramment aujourd'hui dans le champ de la recherche en Tice et didactique des langues étrangères et maternelles. Paradoxalement, les exemples concrets de macro-tâches, tâches, etc. sont assez rares dans la littérature du domaine. On sait pourtant le rôle important joué par la tâche dans l'apprentissage d'un savoir ou d'une compétence. Chaque enseignant a, de plus, expérimenté la difficulté de concevoir des consignes compréhensibles, d'adapter la difficulté d'une tâche au niveau des apprenants, de sélectionner le matériau sur lequel travailleront ses apprenants ou encore d'adapter le type de tâche à l'objectif langagier visé. Enfin, le cadre que nous fournit aujourd'hui la perspective actionnelle, faisant de la tâche le moyen pour l'apprenant-usager de mobiliser ses compétences pour agir en langue étrangère, conduit les didacticiens à s'interroger plus encore sur son efficacité dans l'apprentissage. Les différentes dimensions des tâches (forme, modalités, sens, objectif, supports, outil) revêtent une importance capitale dès lors que l'on se situe dans des situations d'enseignement / apprentissage de la langue non présentielles dans des environnements d'apprentissage multimédias ou des dispositifs de formation intégrant les Tice, formations ouvertes et à distance, projets d'échanges exolingues en ligne, etc. Elles nécessitent en effet d'être scénarisées et médiatisées avant que l'apprentissage ne débute et les concepteurs doivent anticiper les réactions des apprenants puis s'adapter au réel et modifier, si besoin est, les activités ou les scénarios prévus. La deuxième édition de Tidilem se propose d'examiner cette problématique des tâches médiatisées par différentes entrées : - réflexion théorique ; - conception de tâches médiatisées ; - réalisation de ces tâches par les apprenants et analyse de la mise en oeuvre.
Fichier principal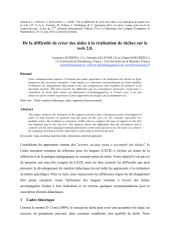 Schmoll.pdf (202.69 Ko)
Télécharger le fichier
Aguerre.pdf (382.51 Ko)
Télécharger le fichier
Audras.pdf (1.27 Mo)
Télécharger le fichier
Brudermann.pdf (211.59 Ko)
Télécharger le fichier
Chachkine.pdf (313.05 Ko)
Télécharger le fichier
Chen.pdf (153.95 Ko)
Télécharger le fichier
Cosereanu.pdf (249.91 Ko)
Télécharger le fichier
Furstenberg.pdf (434.42 Ko)
Télécharger le fichier
Gregoire.pdf (388.84 Ko)
Télécharger le fichier
Grosbois.pdf (330.73 Ko)
Télécharger le fichier
Mangenot.pdf (183.11 Ko)
Télécharger le fichier
Marin.pdf (174.82 Ko)
Télécharger le fichier
Nissen.pdf (185.52 Ko)
Télécharger le fichier
Ollivier.pdf (285.37 Ko)
Télécharger le fichier
Puozzo.pdf (190.68 Ko)
Télécharger le fichier
Rodrigues.pdf (170.45 Ko)
Télécharger le fichier
Origin : Files produced by the author(s)
Origin : Files produced by the author(s)
Origin : Files produced by the author(s)
Origin : Files produced by the author(s)
Origin : Files produced by the author(s)
Origin : Files produced by the author(s)
Origin : Files produced by the author(s)
Origin : Files produced by the author(s)
Origin : Files produced by the author(s)
Origin : Files produced by the author(s)
Origin : Files produced by the author(s)
Origin : Files produced by the author(s)
Origin : Files produced by the author(s)
Origin : Files produced by the author(s)
Origin : Files produced by the author(s)
Origin : Files produced by the author(s)